School Lunches & packed Lunches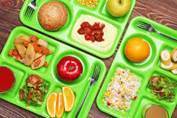 From the 21st September we will be providing children a hot meal.
hgjhgjhg
This will be from a menu similar to last year, where children will have a choice of a vegetarian or meat option. All our meat remains halal. Their meal will be served in a plastic re-usable container, with biodegradable cutlery. The plastic containers will be washed on a high temperature each evening. Meals will be served in either the classroom or the dining hall to allow for social distancing.
htrytrtr
Hot meals will cost £2.20. Children in Reception, Year One and Year Two are entitled to a universal free meal.
htryr
If you choose for your child to have a packed lunch, this choice needs to remain in place until half term.
jhgjhgj
Please click here to view this week's menu.
gfhgfhgf
Packed Lunches
If you prefer your child to have a packed lunch, their packed lunch needs to contain healthy choices only, with the exception of on a Friday, when they are allowed a small treat. Examples of treats include:
Crisps

Biscuit

Small piece of cake or a cup cake
Parents making packed lunches need to also be mindful of children, in school, with allergies. Therefore, packed lunches must not contain:
Nuts (this includes peanut butter and Nutella)

Sesame seeds
Thank you for your understanding.
gfjhgfjgf
If after reading this information, you have any further questions please email the school office office@allsoulsprimary.co.uk