All Souls Virtual Tour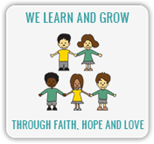 Unfortunately we have had to postpone our open evenings due to the Coronavirus pandemic.
We are hoping to be able to reschedule our open evenings for some time in December.
These tours would enable parents (up to 2 adults per family) to come along, meet with the Headteacher or Deputy Headteacher and have a full tour of the school.
In the meantime, please do to watch our Virtual Tour.
We are very proud of our virtual tour and feel it capitulates so much of what All Souls has to offer your child.
We hope you enjoy it, and look forward to welcoming you and your child to All Souls very soon.
Please note the closing date for Reception place is not until 15th January 2021.